UniDict - the Ultimate Multilingual Dictionary Search Engine.
About UniDict
UniDict has been designed to be an extensible, multi-purpose, multilingual dictionary search engine. It can create search index files for dictionaries in a number of formats plus supports plug-ins for new formats and external searches. Although based in Japanese support, UniDict does not end there. You will be able to customize UniDict to your needs and it will grow with you. UniDict supports the EDICT format so you will be able to download the latest versions of on-line dictionaries and keep your dictionary collection up to date.
Language is the most fluid aspect of culture. It is a moving target that requires constant maintenance and updating. The EDICT format that UniDict is built on is supported by an army of linguists keeping the dictionaries current and extending features. UniDict will, through its plug-ins and network support, become the central point for all your lookup needs. UniDict comes with a built-in text editor and a glossary builder for you to built your own dictionaries. It supports AppleEvents for remote searches as well as running as a dictionary server. UniDict also support features such as "Drag and Drop", OS8's "ContextualMenu" for running searches up from other applications and Text-to-Speech for reading text aloud. With UniDict's unique "Kanji Constructor", you can look up the meaning of kanji which you do not know the reading of.
Take a look at UniDict's three main search windows.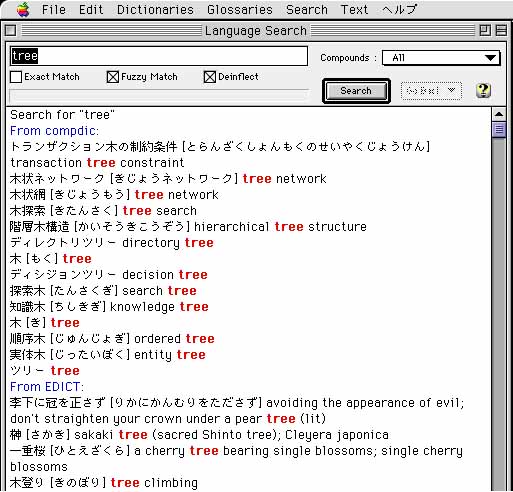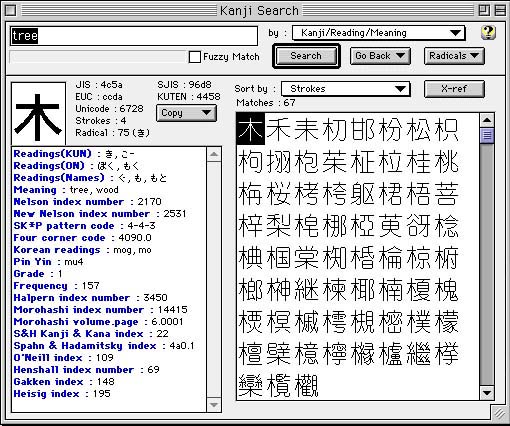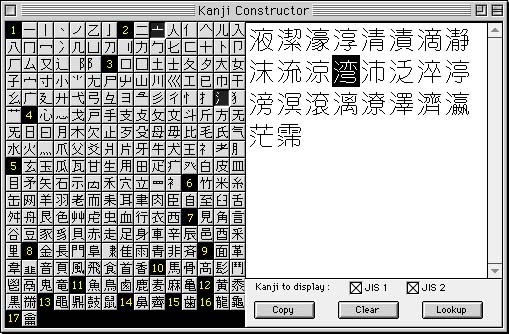 Pricing and availablity
UniDict 1.0 is available in software stores in Japan and also directly from Enfour for non-Japanese users.
In Japan:
Available in all stores where Mac software is sold. If they don't have it in stock they can get it in very fast.
12,800 Yen one copy (RRP)
50,000 Yen site licence (10 copy LAN licence)
24,000 Yen academic (1 language lab or 5 copies over campus)
In Australia:
AUD$120 one copy
AUD$500 site licence (10 copy LAN licence)
AUD$300 academic (1 language lab or 5 copies on campus)
Prices include postage within Australia.
Elsewhere:
US$95 one copy
US$400 site licence (10 copy LAN licence)
US$200 academic (1 language lab or 5 copies on campus)
Prices include postage to anywhere in the World.
Ordering details:
For all sales outside of Japan payments should be made by check to:
"Enfour Associates Pty. Ltd."
117 Columbus Drive,
Hollywell QLD 4216 Australia

Or by bank wire to:

Commonwealth Bank of Australia. 73 Mary Street. Brisbane. Australia. 4001
Account number: 06 4011 00138185


Orders will be processed immediately and express mailed, but international orders may take upto six weeks for delivery.
For more details contact:
Jim Northcott
Enfour Associates Pty. Ltd.
Tel: (07) 5529 6155
Fax: (07) 5529 6155
email: [email protected]
A Demo version of UniDict (with only two dictionaries)
In BinHex format UniDictDemo.hqx (5.1MB)
In MacBinary format UniDictDemo.bin (3.9MB)
---
A more detailed look at UniDict's features
---
---
Enfour Group Top Page
---
Copyright Enfour Group 1998, UniDict contact >>>

[email protected]